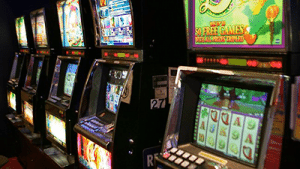 The owner of some of Victoria's most prolific pokies venues has been nominated for several Australia Day honours by a public health group.
Fairfax Media reports Lucky Eights director Alexander Burnside Robertson was sponsored by Northern Health for two awards for his fundraising efforts, which totalled personal donations of $3 million over 18 years.
Robertson, who co-owns Epping Plaza Hotel, has also donated $200,00 worth of tapestry for the hospital's foyer, which is located only a few hundred meters away from the state's largest pokies venue per patron gambling losses. Gamblers spend $20 million a year playing at the Epping Plaza Hotel's 100 poker machines.
Mr Robertson, who has been a Lucky Eights director since 1993, has been awarded a number of charity and community work awards over the years. He was recognised for his fundraising efforts in 2001 with the Centenary Medal for his service to business, the Victorian Football Association, and Northern Hospital. He also received the Medal of the Order of Australia (OAM) in 2001 for "service to the community, particularly through fundraising activities supporting the Northern Hospital."
Despite criticism surrounding Mr Robertson's awards, mostly from anti-gambling advocates and other health professionals, the Northern Health Group was unwavering in its recognition of his community work, saying it was "pleased to support [Mr Robertson's] nomination for a Centenary Medal and a Medal of the Order of Australia".
"Since 1998, Alex and his family have donated over $3 million to Northern Health, which has allowed the Northern Health Foundation to purchase lifesaving medical equipment and support the next generation of medical professionals through the Alexander Robertson Scholarship. Along with other Australian philanthropists, Alex was rightly appointed as a Patron of the Northern Health Foundation for his ongoing dedication and support," a Northern Health spokesperson told Fairfax.
When asked about the perceived moral conflict in supporting the community while owning the state's most popular pokies venue, Mr Robertson said gambling was "up to the individual".
"So many people are addicted to so many things. But it is entirely up to the individual person what their pleasure is. Whether it is religion, whether it is sport, whether it is sex or whether it is gambling, or alcohol. Everybody has their own desires," he told Fairfax.
City of Whittlesea Mayor Stevan Kozmevski was damning in his assessment of gambling and pokie machines.
"Any person with a conscience would know that the poker machines do not do any good to our community, people suffer, the whole family suffer," he said.
Mr Robertson, however, was steadfast in separating gambling from his community efforts.
"Are they to be deprived of their enjoyment? If they find playing the pokies an enjoyment are we going to deprive them of that right? Are we going to deprive people of buying a Tattslotto ticket? Do we close the race courses? Do we close the dogs, or do we close trotting? We should close all the hotels? Should we close all the cinemas?" he said.
The Robertson family has stakes in five gaming venues, which Fairfax reports took $68 million from gamblers in 2015.