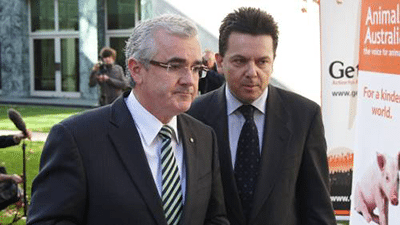 Two of the most outspoken gambling campaigners and independent politicians, Nick Xenophon (independent Senator for South Australia) and Andrew Wilkie (independent federal member for Denison), are ensuring their voices are heard again, following the Federal election, pushing for new limits on the gaming machines in Australia.
The Nick Xenophon Team added seats to their party following the election, while Andrew Wilkie retained his seat in Tasmania, and believe they can both have some serious influence over the newly formed government, campaigning for tighter restrictions within the gaming industry, to curtail the always present issue of problem gambling.
Maximum betting limitations on pokies machines:
Both Xenophon and Wilkie want the government to implement betting restrictions on land based pokies machines (also known as the slots), which are available to play across the nation in brick and mortar casinos and licensed gaming clubs (such as TABs), hotels and bars.
In 2010, the Productivty Commission's report recommended the introduction of a $1.00 maximum betting limit for land based pokies machines, but yet this has not been enforced.
Xenophon stated that gambling on the pokies "is an issue that will not go away, where there are 400,000 people with a severe gambling addiction or well on the way to getting one."
The number is said to be closer to 500,000 by ProblemGambling.gov.au – "up to 500,000 Australians are at risk of becoming, or are, problem gamblers."
Also according to ProblemGambling.gov.au, Australians spent more than $19 billion on gambling over the years 2008 and 2009, and approximately $12 billion that money was spent playing the pokies.
While we should remind ourselves many people enjoy gambling as a form of entertainment, and they enjoy it responsibly, many people are also at risk of experiencing significant harm from real money betting.
Cut back on sports betting advertisements:
The pair also want to see a limit on the amount of gambling advertisements seen on television and in he public square. A ban on sports betting adverts during matches broadcast on television is at the top of their list, and Tim Costello of the Alliance for Gambling Reform is also towing this same line.
Review of the Interactive Gambling Act of 2001:
A review of the Interactive Gambling Act of 2001 (IGA) was conducted by the Tony Abbott government, but the review did not significantly impact any Australian land based or online gambling laws.
It is important to note that it would be highly unlikely any review of the IGA will bring forward measures that will criminalise online gambling to the Australian public (that includes sports betting, lottery betting, casino betting and poker betting).
And considering the amount of revenue casinos, licensed gaming pubs and hotels, and the government (tax revenue) receive from the gambling industry in Australia, putting forward legislation that looks to limit the amount of cash the Australian public can spend on certain gaming machines and other forms of gambling, is always a hard task.
But Wilkie and Xenophon, who both stand to hold more power in the Senate once the new government of 2016 is formed, will not let their voices go unheard.
For more information about the online and offline gambling laws in Australian, head to our Casino betting legalities and legislation page.