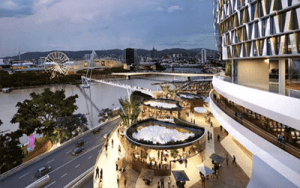 A bridge connecting Brisbane's family-friendly South Bank to a planned casino resort has been rejected.
Construction has commenced on the Queen's Wharf Brisbane development, which was announced in 2015 as a joint venture between Echo Entertainment and Hong Kong developers Chow Tai Fook and Far East Consortium.
But the international operators were sent back to the drawing board due plans for a pedestrian bridge leading straight to the gaming level of the new Australian casino.
It has since been re-designed, following consultation with the government, to connect to the floor below where most of the new retail outlets will be situated.
The $100 million-plus bridge will be named after the late Queensland Liberal senator and Australia's first indigenous federal parliamentarian, Neville Bonner.
It was included in a $2 billion Queen's Wharf development deal due to its economic contribution.
Despite it's new location, the four-metre-wide bridge will be only for pedestrians, which has become a bane of contention for some groups in the public domain.
Bicycle-user group Space 4 Cycling BNE spokeswoman, Belinda Ward, said the public isn't being told all the details of the bridge plans and despite its new location she believes it is still a missed opportunity.
"It is being presented as a big improvement to the public realm, but it's not clear that it is," she said.
"It delivers you into the casino, as far as we can tell.
"Is that genuine public space?
"We think this (development) is an opportunity to improve the access to the CBD and this bridge is not doing that at all."
Along with a brand new casino, five international hotels, three apartment towers, 50 restaurants and a huge retail shopping complex, there will be a 100-metre-high sky deck opening to the public.
The development will also ­see parklands created underneath the Riverside Expressway which will extend out to the Brisbane river.
The construction will see 2000 jobs created, while 8000 positions will be made available once the development is completed.
But the construction and development will come at a cost to the public including street closures over the next five years and 160 truck movements a day into the city.
Queens Wharf Road will also be permanently closed.
The "brick by brick" demolition of three former government buildings, including the 1999 Australian Institute of Architects' award-winning Neville Bonner Building, will also commence within the next few months.
The entire venture isn't set to be finished until 2024, with the casino set to open in 2022.
Want to play casino games online? New players from United States can claim bonus cash and free spins just for signing up at BetOnline Casino.