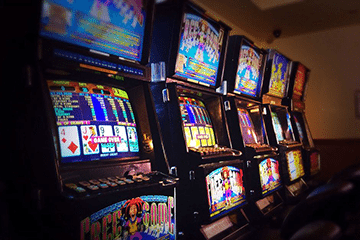 THE Western Bulldogs are offloading 70 pokies machines to other interested parties in the AFL.
The Melbourne Racing Club and Geelong Football Club and one other unnamed AFL club are among the parties inquiring about purchasing the machines, which were intended for their now-defunct Edgewater gaming venue in Maribyrnong.
Many critics have slammed the Cats for hypocrisy in the wake of the news after the AFL went public in opposition against gaming machines only months ago, and after club president Colin Carter spoke against the football industry's role in encouraging gambling to fans.
"I think the AFL has become… seriously off the mark with (pokies)," Carter told the Herald Sun. "But we are all complicit in it. And there is no doubt the incentive at the moment is for the clubs to stay in it rather than get out."
The Dog's $30 million Edgwater Club development began in 2008 with the aim to bring "the biggest commercial venture in the club's history" in the City of Maribyrnong. The plans had a pokies lounge attached to a four-storey hotel, bistro, cafe, sports bar and conference facilities.
Edgewater has been plagued with delays and issues since the beginning, when the Maribyrnong City Council initially rejected their planning permit application. A confidential legal agreement made by the club in June 2011 also held up the construction phase further until the project was effectively entirely halted in 2012.
In 2014, the Western Bull Dogs club ordered the 70 poker machines for deployment despite the problems, adding to their overall gaming machines count from their operations in Dromana and Footscray.
Eventually, the club terminated the lease in August last year.
Last month, AFL clubs including Collingwood, Richmond and Geelong were criticised for alleged exploitation of tax loopholes which allowed them to claim millions in revenue from their gaming machines in the wake of the Future Melbourne Committee's new call for clubs to "develop a funding support plan to encourage all AFL clubs to transition away from reliance on poker machines."
Many clubs are said to have taken advantage of the lenient 25 per cent state tax on pokies machines and the broad definition of "community benefit" and funnelled money into expensive operational costs of facilities and grounds while offering minimal contributions to community projects.
While poker machines continue to be demonised at local pubs and sporting clubs, if you are from United States we recommend to sign up at Slots.lv to play online.