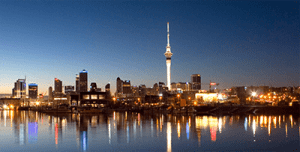 SKYCITY's New Zealand casinos are reportedly doing better than its Australian arm.
The six-month report on SkyCity's operations was released last week, revealing Auckland and Hamilton casinos generated impressive profits from June until December, overshadowing the Australian venues.
The operator's total net profit for the six months was $83.8 million – 18 per cent up on last year's record of $71 million.
An increase in New Zealand tourism has been attributed to the income improvement, with SKYCITY Auckland's revenue up by 3.4 per cent, and SKYCITY Hamilton's revenue up by 7.3 per cent.
While Adelaide Casino reportedly achieved a stable gaming machines performance, it was offset by a lower table games hold percentage and a reduced food and beverage contribution. Revenue was down 1.7 percent.
SKYCITY Darwin didn't fare too well due to the increased competition from pubs and clubs, with an increase of 60 per cent in gaming machines in these venues since July 2015. As a result, revenue was down 4.1%.

International VIP business at the company has also dropped by 39% which has been attributed to the lower number of visits from international VIP players. The increasing number of money transfer restrictions has also been blamed.
SKYCITY's Interim Chief Executive Officer, John Mortensen, commented on the interim result with a positive outlook on the second half of the year.
"The main drivers of the 1H17 performance were solid growth in our combined New Zealand properties, offset by reduced turnover in our International Business, continued competitive and economic pressures in Darwin and a weaker Australian dollar," he said.
"Pleasingly, however, trading at our flagship property at SKYCITY Auckland improved significantly in 2Q17, with strong growth across all business segments."
The report predicts growth over the second half of the financial year thanks to the New Zealand casinos, but reports a risk of some disruption to Adelaide casino from the early works programme, and challenging trading conditions for SKYCITY Darwin.
The Adelaide casino's early works programme for the Riverbank Precinct redevelopment is considered to be a major project for the company, along with The New Zealand International Convention Centre and Hobson St hotel projects and a new Cantonese restaurant on the ground floor of the Auckland casino's atrium.
The company expects its international business to perform weaker during the second half due to the ongoing decline in VIP customers. This comes following the 18 Crown staff who were arrested in China, the impact particularly being felt by Australian and New Zealand casino operators.