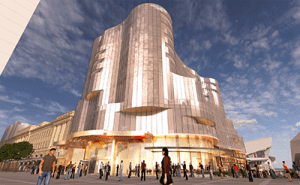 The $300 million redevelopment plans for Adelaide Casino may be put in motion due to a breakthrough agreement over car spaces.
SKYCITY has secured the right to lease fundamental car parking space in the Festival Centre, which is integral for the Adelaide casino redevelopment.
The Advertiser has reported the deal was struck with tycoon Lang Walker, who is developing the $500 million Festival Plaza project, following long negotiations.
Car parking is quite limited since car spaces for the land-based casino located on the heavily developed North Terrace site come at a premium. This meant the casino developers would've had to figure out another way to get car spaces to support its plans for an 80-room luxury hotel, restaurants and VIP gaming areas.
This is a huge breakthrough for the Casino which has secured 750 of the 1560 car spaces in the Festival Centre carpark.
Work has now commenced on the Adelaide Festival Centre, which will be closed for six months later this year to allow for construction and pivotal structural work. Construction on the underground carpark will commence within a few months, with the State government also leasing 400 of the 1560 parking spaces.
Just last week it was revealed the deal to lease the car parks was still being negotiated, with Urban Development Minister, Stephen Mullighan, indicating the agreement was nearing confirmation as all details needed to be carefully managed.
This agreement, which has been anticipated since the deal was signed over a year ago, will now see the construction of the carpark, but it doesn't mean the casino redevelopment is a done deal just yet.
The expansion approval for the Adelaide Casino hotel and gambling complex – an essential feature of Adelaide's new multi-billion riverside strip – was granted more than a year ago.
Work was projected to commence at the end of 2016, but it has faced several roadblocks since.
The State Government has also scrutinised the VIP rooms, which has been a prominent obstacle for SKYCITY. The casino operator is currently trying to argue it has the right to choose which VIP players are to be rewarded through its loyalty programs.
The development was still listed as "under consideration" by its board in the half yearly financial results released last week. While the VIP issue is a problem, it has been revealed the agreement over parking was the biggest roadblock for the project and it won't be long before construction commences.
The half year report now predicts "that these works will be completed by late 2017."
Prefer gambling online? Players in United States can pocket a big welcome bonus at Slots.lv.