Best film-themed pokies which do the license justice
Best film-themed pokies which do the license justice
There are many fantastic movie-themed slots games from iGaming's best software providers. Many of the world's leading iGaming providers hone in on their skills in this area, taking hold of popular film licenses and turning them into engaging and highly rewarding film-themed pokies. So which ones are our favourites? Let's check out the best film-themed pokies.

Play Movie-themed slots online
---
Scarface (NetEnt)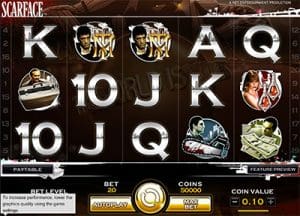 There's no surprise that the 1983 classic Scarface has found its way to the online gambling space. Thinking about the setting of the film, its characters and obsession with money point to Scarface being the perfect online slot. Wealth, power, business. NetEnt's Scarface slot somehow finds a way to integrate all of the film's main themes into this slots game. It's played with four different Wild symbols, meaning there's a constant stream of great action. There are also fantastic cinematic mini-games, including a Tony Montana one that is initiated once his symbol appears over the reels. It's one of the more violent slots out there, but it's certainly among NetEnt's best.
---
Top Gun (Playtech)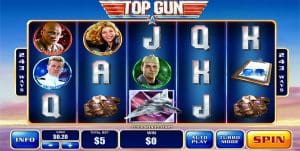 It was only a matter of time before someone turned the iconic '80s action film Top Gun into a pokies game. The folks over at Playtech did it, and honoured the film as best they could. It's not as detailed or violent as Scarface, but it gets the job done with Wild and Scatter symbols aplenty! There's 243 ways to win, and while the Topgun slot by Playtech lacks much in the way of bonus rounds, and the free spins can be hard to come by, the Top Gun slot is a great themed slot that does that honours the license.
---
Bridesmaids (Microgaming)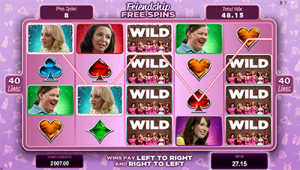 It's the outlier in this group being the only comedy, but somehow Microgaming has managed to turn Bridesmaids into a decent slots game. One of the best comedies of the past few years has made a very successful transition to the online gambling space, featuring the film's best and funniest lines, a highly rewarding and enjoyable Wheel Of Fortune-style bonus round, not to mention 11 cash prizes, multipliers, four bonus levels, and free spins.
---
Jackpot Rango (iBetSoft)
Rango is a fantastic animated film, and thankfully its pokies equivalent is just as good. iBetSoft has honoured the quality of the film, offering a 5-reel, 25 payline game with numerous ways to win big. This themed slot offers free spins, Wilds, and a huge progressive jackpot. Jackpot Rango slot may not have much to do with the film outside of some standard animations and symbols, but the fact it's a great gambling game makes it worth checking out.
---
Aliens (NetEnt)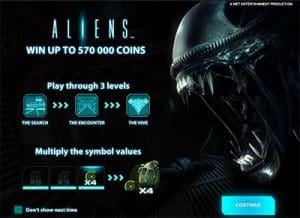 Once again, NetEnt sets the standard among iGaming providers with the Aliens slot, which is arguably the best film-themed pokies game out there. This is a spectacular pokies game with amazing gameplay features and bonus rounds. There's a thrilling story-based levelling system, in which you can work up your way towards the Alien queen and some big wins. Aliens slot also free spins, fantastic animations and graphics, not to mention the typical NetEnt standard of quality that we've come to expect from the company. A rare film-based pokies game that is similarly brilliant and engrossing as the film it's based off of.
---
Jurassic Park (Microgaming)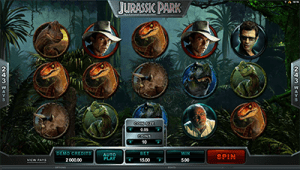 If you're looking for a graphical marvel to play, then Microgaming's Jurassic Park slots game is the one for you. Being one of the more lucrative franchises in film history and helped propel this slot to the top of the most-played list as many an online casino. There's an exhilarating "T-Rex alert", which alone makes this pokies game worth playing.
---
Rambo (iSoftBet)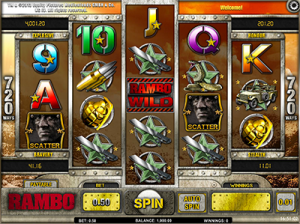 This pokies game is based off of the 2008 film of the same name, so as you can imagine, crazy action sequences and violence are the focus for this game. iSoftBet has built a game around the brutality of the Rambo film, offering a staggering 720 paylines across five reels. Rambo slot has's a four-tiered progressive jackpot, which can lead to huge wins with the scattered golden grenade symbol. There's no free games or multipliers, but this Rambo slot still offers fantastic ways to win.
---
Terminator 2 (Microgaming)
Microgaming's Terminator 2 slot game may lack much in the way of animations, bonus rounds and action, but it still does a fine job of feeding into nostalgic urges, paying homage to the greatest action film of all times. There aren't any huge jackpots, but it's a classic slot that offers up some memorable moments from the film. If you're a Terminator fan, then this is one pokies game worth checking out.
---
Rocky (iBetSoft)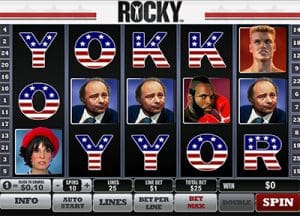 Yet another Sylvester Stallone film license to get the pokies treatment. Once again, it's a fantastic film-themed game from iBetSoft, with the Rocky slot offering plenty big ways to win. There's a gamble feature as well, on top of a fantastic Rocky-themed design that really ties into the offerings of the film series. Be on the look out for some of the best lines and characters from the films.
You can demo any of the film-themed online slots by clicking or tapping the images at our recommended, safe Internet casino sites. For more online slots, check out our online slots review page.