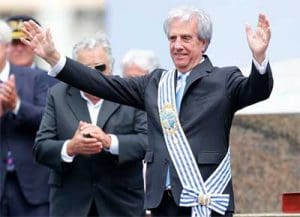 Uruguay has introduced new restrictions which prohibit offshore online poker and casino games in the country.
Similar to the recent gambling reforms in Australia, Uruguay has passed legislation which bans offshore casino and other gambling games.
The new Accountability law, which passed the Uruguayan Senate by 24 votes, was approved by the country's lower house and signed into law by Uruguayan President, Tabaré Vázquez, on Monday.
Under the new laws, "casino games such as poker, roulette, slots" and similar games are "absolutely prohibited" via offshore online gambling providers.
As a result, Uruguayans can only gamble with the national lottery operator, National Directorate of Lotteries and Quinielas, which also runs sports betting services.
While there are no specific penalties for offshore operators which serve Uruguayan online casino players and betting site punters, the law gives the state power to block "access to websites, financial frauds, as well as the prohibition of commercial communications, sponsorship and advertising of unauthorised games.".

Online casinos and gambling payment methods are likely to be blocked, leaving players to a restricted online gambling environment.
It also means satellite poker qualifiers will no longer be available to Uruguayans despite PokerStars holding a tournament in the country in the coming weeks.
Additionally, approved casinos, racetracks, gaming halls, the state-owned national lottery operator and sports betting outlets are facing a new 0.75 percent tax on gambling revenue.
The online gambling crackdown has been on the agenda for the Uruguayan government for quite some time now.
Uruguay's Ministry of Economy and Finance indicated that it would be cracking down on international gambling providers in July after National Party deputy, Jorge Gandini, highlighted that Sportingbet (owned by GVC Holdings) was operating in the country by sponsoring local sports icons of Club Nacional de Football.
It's not the first time Uruguayan lawmakers have considered implementing an online gambling regulatory framework in the country. In 2005 and 2013, legislators attempted to legalise online gambling but failed.
The President was also thought to be in favour of a legalised online gambling industry, with the government rumoured to be drafting a bill last year, allowing it.
However, when news spread that the government was considering making gambling legal, lottery employees and staff from the casino industry went on strike.
"We refuse to accept that two members trusted by the Ministry of Economy and Finance's hierarchy decide for themselves, who, when and how gaming is exploited in Uruguay, displacing the traditional supervision of Parliament which alone is empowered by law to decide on gaming," a statement from their union said.
The country's prohibitionist stance mirrors the rules and regulations in regards to online gambling in several South American jurisdictions. Colombia is the first and only country to regulate online gambling, with two online gaming licences already allocated and several more to be issued in the coming weeks.
Colombia uses domain and payment blocking measures to ensure Colombians can only access regulated and licensed sites, however.
If you're looking for an online casino site which offers roulette, blackjack and even poker against the house, check out BetOnline Casino.