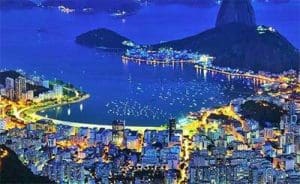 Brazil is looking to legalise casino gambling next month, and we could see a casino pop up next year given the recent comments by the country's President.
According to local media outlets, the Chamber of Deputies will vote on whether the country should legalise physical casinos in Brazil next month.
If the 513 deputies vote in favour of the new legislation, and it passes subsequent approval processes, then the country could see construction on a gambling facility next year.
According to the Chamber of Deputies President, Nelson Marquezelli, 216 deputies support the idea of regulating land-based casinos, including the Brazil's President, Michel Temer.
President Temer recently declared that he would sign any legislation legalising gambling that came his way.
Since the Chamber of Deputies voted to save President Temer from going to trial to face allegations of corruption, he can follow through on his promise.
Following the reports, hotels in Guarujá, Campinas and São José do Rio Preto expressed interest in expanding their resorts by adding gambling facilities.
But they may have some competition.
Several international operators have eyed the Latin American country as a promising gambling jurisdiction, given the population of 207 million, but the lack of regulation has prevented MGM and Las Vegas Sands from acting on their intentions.
Their interest is understandable given the Brazilian Legal Gaming Institute (IJL), estimated that illegal gambling services in the country generate R$20 billion.
Provided the regulatory framework, which includes regulation and taxation policies, accepts international licensees, then these operators could be building a casino by 2018.
However, the bill still needs to be voted on by the Senate, where a competing bill is currently trying to make its way through parliament. The Senate bill includes the legalisation of lotteries and sports betting, as well as electronic bets which have been interpreted as real money online casino products.
If the two houses don't agree on certain stipulations, then it may fail to make it to the President to be signed into law.
Legislation to legalise most forms of gambling has been proposed for several years now, with the two competing bills making slow progress through each house due to several religious and political roadblocks.
Last year, Brazil's Catholic clergy compelled the public to pressure politicians into rejecting the liberalisation of gambling to prevent "irreparable moral, social and family damage."
But religious arguments may be overlooked, when it comes to legalising the gambling industry now, due to the country's unstable finances.
Looking for an online casino?
If you want to try your luck on online slots or dabble in a skill-based game like poker, you should check out an online casino. We recommend players from United States visit Slots.lv for the best real money casino games and player bonuses.