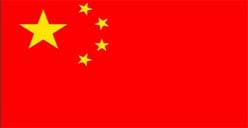 Four Chinese government inspectors have fallen on the wrong side of the law after a video of them gambling went viral.
The uniformed officers, known as Chengguan, appeared in a video which showed them gambling in one of the poorest counties in China.
The chengguan inspectors are responsible for keeping law and order in the locality. However, instead of performing their duties, the four officers decided to play a poker game.
Luck eluded the quartet as they were filmed and the video was released online by a local media outlet.
According to the Shanghai-based news outlet reports by Thepaper.cn the four officers were later identified as workers of the urban inspection authorities of the Ludian County in Yunnan province of south-east China.
Police detained those caught in the video for between 11 and 13 days and all were issued with a fine. In addition, an inspector who was in plain clothes was also identified and put into custody.
The County authorities said the detained officials "had a very negative impact and undermined social morals."
The county is special in its own way because it is the home of "Ice Boy" Wang Fuman.
The young boy made headlines when a picture of him walking to school through freezing weather along mountain roads went viral.