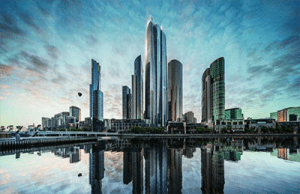 Crown Resorts will own the tallest building in Melbourne following the approval of a 90-storey hotel complex.
James Packer has stayed true to his word that his company would focus on its domestic projects, following the announcement Crown was abandoning its international projects – and it has paid off.
The Andrews Government has approved the $1.75 billion Melbourne expansion, which will see a 323-metre-high hotel and apartment skyscraper linked to the Crown Casino and Entertainment Complex on Southbank. Once the joint venture with the Schiavello group is completed, scheduled for 2020, it will be the highest building in the city.
The tallest building at the time of writing, is Melbourne's Eureka Tower, at 297 metres high.
Premier Daniel Andrews said approval of the 708 apartments and 388 hotels had been granted in under just 12 months.
"This is by far and away, at $1.75 billion in construction, the biggest development the city has ever seen, perhaps the biggest the nation has ever seen," Andrews said.
"In other parts of the country similar planning approvals, even much smaller projects, take years and years."
Crown Resorts executive vice president of strategy and development, Todd Nisbet, commented on its potential to become an iconic landmark.
"We truly believe One Queensbridge will add to the liveability and vibrancy of city life in Southbank and become a signature landmark in the Melbourne skyline with international appeal," he said.
The approval was granted on the condition it delivers $100 million in community benefits, including the jobs the project would create during the scheduled six-year construction, and the ongoing work once complete.
"What we're really approving is 4,000 jobs … for construction workers and for those in the hospitality sector, in the construction phase and for the future," Andrews said.
The generated money will also reportedly be spent on improving infrastructure in Southbank which surrounds the hotel, including renovations to neighbouring Queensbridge Square.
"This is a bold transformation of Melbourne's skyline that will build on our state's reputation as the nation's leader for tourism," Andrews said.
Professor of environment and planning at RMIT, Michael Buxton, doesn't agree with the approval since it will open a "Pandoras box" for every developer in the city.
"He already set the precedent when he approved some high-rise towers exceeding the 24.1 interim controls," Mr Buxton said.
"Now he is showing that the so-called permanent rules are meaningless, where he wants to vary them.
"It's been justified as a hotel, but it's primarily an apartment complex when we already have too many apartment towers in Melbourne."
Don't waste time and money trekking to Southbank – get free spins and bonus bets at BetOnline Casino.