A report has revealed the gambling related crime statistics in Macau for 2016, and the results certainly aren't going to help soften China's crackdown on corruption and gambling anytime soon.
In Macau, authorities classify any crime that occurs within a casino as gaming related.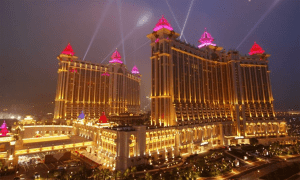 Figures released by Macau's Judiciary Police (PJ) showed that gambling related crimes increased by 19.2% when compared to 2015, with a total of 1,851 gambling related crimes recorded. A majority of the crimes fall under categories of extortion, abduction and usury, which are typically related to loan sharking. Cases of unlawful detention rose by 37.4%.
Judiciary Police director, Chau Wai Kuong, said the increase in casino-related crimes could be attested to the increased police work in combatting illegal gambling activities.
Chau said, "We've been taking the initiative to investigate the cases based on the intelligence we receive in order to combat the crimes. This is also the most efficient way. This principle is actually very effective in combating crimes, particularly, gaming-related crimes."
Information leading to the crackdown on criminal activity was mostly gathered from mainland China residents who informed Macau police when loved ones were illegally detained. Foreigners, local residents and Interpol also provided helpful information that led to arrests.
The police chief emphasised that these crimes were occurring within casinos and hotels and did not affect local Macau residents. "These cases, so far, are still basically happening inside local casinos. We haven't yet seen their negative impact on the general security of society," Chau said.
He added that a majority of the perpetrators and victims in the gaming related cases were not residents of Macau.
Non-gambling related crimes in Macau were also on the rise in 2016, with drug trafficking cases increasing by 43.5%.
The only good news is that while crime rates increased, they did so at a slower rate than in the previous year. In 2015, gambling related crimes were 38% higher than in 2014, so while crime rates are growing, they are doing so half only half as fast.
The results were released as news fell that detectives discovered the body of a father and son in Macau's Galaxy Casino complex. Detectives believe the deaths were part of a suicide pact that also involved the dead man's wife and a younger son, who were found unconscious on the scene along with four separate suicide notes.
Investigations into the deaths are ongoing.
Play safe, legal casino games online at BetOnline Casino – the number one gambling site for players in United States.