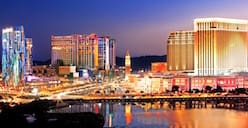 GROSS gaming revenue has slowed year-on-year for the month of May despite the outstanding April lead-in.
According to Macau's Gaming Inspection and Coordination Bureau has revealed gaming revenue jumped 12.1% year on year for the month of May.
But this is significantly lower than the 22.2% and 27.6% year on year increases for the months of March and April.
The figures released on Friday, show casinos made USD $3.15 billion, higher than the $2.82 billion made for the same period last year, but this figure was about $150 million short of analysts predictions.
Macau has had a prosperous 22-month period with with sustained growth, but these latest figures are not causing panic. International brokerage Union Gaming believes a fall in mass market numbers, brought on by mainland police busts of currency exchanges at the Gongbei border, and a winning run from VIPs lead to the decrease in expectations.
The all important VIP segment, according to Union Gaming, has had its second quarter outlook trimmed from 20% growth to 18%, under the expectation that June's results will show growth of 15%.
An online publication is also reporting Fitch Ratings Inc, an International debt monitor, said the Macau gaming is still strong with the growth slow down not denting confidence.
Analysts are still forecasting gross gaming revenue will jump 20% for the 12 month period, with it potentially being the third best year of all time at USD $40 billion.
In another positive note, reports emanating from Cotai say gaming floors are pumping and occupancy rates a hotels are almost at 90%, a far cry from two years ago when the area was seriously wondering if there was light at the end of the tunnel.