A failed pre-Christmas settlement had Star Entertainment sweating, but the group's $140 million purchase of the Gold Coast's Sheraton Grand Mirage has finally gone through.
With the threat of Supreme Court action lingering, Star Entertainment managed to confirm the settlement last Friday, The Gold Coast Bulletin reports.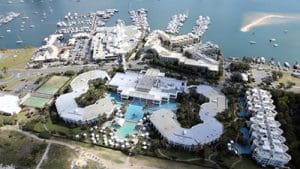 A spokesman for The Star Entertainment Group said The Sheraton Grand Mirage was a tourism destination of international standing, and that its iconic beachfront location made it a prime spot for redevelopment, while also insisting that planned changes to the property would fit the area.
"Any enhancements over time will be sympathetic to the character of an area that has a special place in the hearts of the Gold Coast community."
The purchase deal was first struck in October 2016, but a late change of venue for the settlement just before Christmas saw it fall through.
With the deal now finalised, Star can move ahead with plans to develop and refurbish the location, although it has no plans for high rises or a casino on the site.
That may be due to a planned resort and casino by ASF Group directly across the road for the Star's newly-purchased property.
It's believed that Star intends to improve the hotel standards of the property, and add a number of signature dining options along the beachfront.
The purchase of The Sheraton Grand Mirage comes as Star moves ahead with its $670 million refurbishment of the Jupiters Hotel and Casino, which will soon be renamed to The Star Gold Coast.
"The Sheraton Grand Mirage is complementary to our other properties and allows us to offer guests both from Australia and overseas a variety of experiences, from the urban to the laid-back and now beachfront," the spokesman said.
"We see enormous potential for tourism on the Gold Coast and in Queensland and Australia more generally. This acquisition underscores our confidence in the sector."
This area of The Spit on the Gold Coast has been crying out for development for years, and it seems as though the time has come for some major changes to the area. With investment in Jupiters, ASF Group's planned new casino, and refurbishment of The Sheraton Grand Mirage, the area stands as one of Australia's premiere tourism spots.
Even Queensland can't compete with the quality and variety on offer at BetOnline Casino, where new players from United States can score free spins and bonus cash upon signing up.