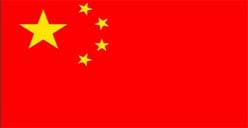 Illegal online gambling operators in China are not perturbed by the government's strong commitment to clamping down on all non-lottery gambling activity as local residents keep patronising the act.
According to a report by China Court Network, police in Cixi City of Zhejiang province last Tuesday arrested 71 people for allegedly engaging in illegal online casino operations by offering Chinese gamblers baccarat games.
The report stated that the Zhejiang Provincial Public Security Bureau started investigating the activities of the suspects after receiving a tipoff from a displeased customer.
This led to raids involving 140 police officers in March, however reports of the raids are only now being released.
Two men, known as Jiang and Ye, were identified as the leaders of the agents who recruit customers for the gambling site, based in an unnamed foreign jurisdiction.
The two men operated as partners until Jiang decided to form his own online operations.
In March, Ye's agent network was raided, while the raid on Jiang's operations involving 80 police took place on September 1, with 14 arrests made.
The report indicated that profits made by these illegal activities amount more than RMB50m (US$7.3m).
In a related story, the paper reported that another crackdown on an illegal gambling network took place in Shaanxi province. It stated that the customers were organised using the WeChat messaging app. The group wagered on the Beijing Auto Racing PK10 lottery results.
The government is becoming intolerable of the operations of WeChat's parent company, Tencent and other domestic platforms used by these illegal online operators.
More gambling news