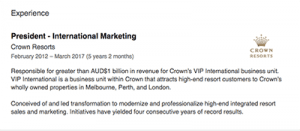 The man in charge of Crown Resorts' failed attempt to lure VIP Chinese nationals has reportedly left the company.
Crown Resorts' international marketing head, Michael Chen, was considered the best up until the explosive incident in China which saw the demise of the casino's VIP business and the detainment of 18 Crown staff and associates in October.
Only one person has since been released but an investigation by ABC's Four Corners in March revealed the poor conditions and terrifying interrogation circumstances the Australian casino staff are going through.
Mr Chen reportedly left the company a month ago but has been on leave since the incident occurred. It is not clear if Mr Chen was made to resign or whether he quit himself, though it's likely there was no place left for him since his role was to manage the staff in China.
Sources close to the incident revealed Mr Chen was behind Crown's choice "to engage more directly with Chinese high rollers, rather than go through the traditional junket channel" during the Chinese gambling crackdown.

He reportedly came up with the strategy to form a team on the mainland which would bring VIP players to Melbourne and Perth Crown Casinos.
Macau casino consultant, Michael Lee, told Four Corners, Mr Chen was "very ambitious" when it came to attracting VIPs from mainland China, where gambling is illegal.
"He obviously had a very high target to meet to justify, I suppose, his appointment and he, in turn, went on a very expensive program to recruit just about anybody and everybody he could in terms of on the ground marketing experience," Mr Lee said.
"He went through Macau, Hong Kong, China, even down to Cambodia, Malaysia, Singapore and recruited a very, very big team of people."
Mr Chen's LinkedIn page – a business version of Facebook – reveals he left the company in March. He had worked for Crown for over five years.
He wasn't caught up in the raids, as he was at home in Hong Kong. Four Corners isn't alone in believing the raids were in the pipeline for some time and Mr Chen would've been well aware of the 14 South Koreans detained for similar gambling-related crimes.
Mr Chen's boss and Crown's vice-president of international VIP, Jason O'Connor, was among those who were arrested during the raids where communication devices were also seized. Four Corners revealed the laptops and computers contained details of the high-roller strategy.
A lot of changes have taken place as a result of the arrests including James Packer returning to the board of his company in January. Then Former chairman, Robert Rankin, and chief executive Rowen Craigie both left the company earlier in the year. It has also been reported Crown secretary and general counsel, Michael Neilson, will be leaving on July 1.
John Alexander has taken on the executive chairman role, however, which has resulted in a lot of cost-cutting, proving the VIP sector was an incredibly important aspect. Mr Packer is trying to compensate by focusing on his Australian assets.
If you're looking for an online casino, instead of a land-based venue, we recommend taking a look at our site and checking out what's on offer. Additionally, if you're from United States you can play a range of real money casino games at Slots.lv safely.