The arrest of 18 employees in China won't hurt the financial viability of Crown Resorts' planned $2 billion Sydney casino at Barangaroo, according to chairman Robert Rankin.
It was initially believed the arrests would have a negative impact on the future of the Crown Sydney Casino.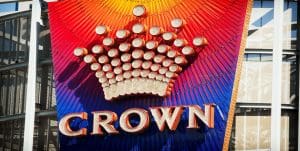 Crown Resorts is embroiled in an anti-gambling crackdown in China following the arrest of 18 of the company's employees, including three Australians from Crown's international sales and marketing team.
The Barangaroo site is being pitched as a lure for Asian high rollers, which James Packer, Crown Resorts' largest shareholder, sees of particular importance to the site's financial viability.
Scheduled to open in 2021, the Barangaroo site will have a VIP-only casino, as well as a hotel and apartments.
However, it's the casino that will form the backbone of the site's viability, with growing tourism from Asia acting a primary drive behind the building's development.
Mr Rankin told The Weekend Australian that there are surging levels of Asian tourists coming to Australia.
"Barangaroo is not scheduled to open for another five years and it's important to note the surging levels of Asian tourists to Australia from across the region The rise of the Asian middle class is the backbone of Australia's tourism industry and the feedback from tourism operators is extremely positive, especially for Sydney. It's these tourism numbers and changing demographics that help underpin our future plans and investment decisions."
Mr Rankin told shareholders at the AGM on Wednesday that the company was continuing to examine how 18 employees were detained in China. They have not been charged with a crime.
"As a company, we don't know exactly what we are dealing with at present,'' Mr Rankin said. "Our people are detained, they are under Chinese process and law, and we fully respect that sovereign process. We will continue to work with DFAT and the families during this very difficult period.''
The arrests come as China ramps up efforts to tackle the illegal promotion of gambling on the mainland.
It is believed that the arrests are related to the solicitation of Chinese high rollers to gamble in Crown's overseas casinos. Such a crime carries a 10-year sentence in China.
Are online casinos safe?
Crown Sydney may be a few years away from opening its doors, but in the meantime there are plenty of online casinos available to players from United States. We highly recommend BetOnline Casino as the safest and best online casino providing support for players from United States.