The fallout from 18 Crown Resorts staff being detained in China continues, with casino operator SkyCity fearing the country's crackdown on gambling could hurt its bottom line.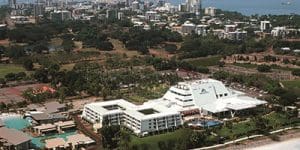 SkyCity Entertainment Group, which operators a number of casinos, bars and restaurants in Adelaide, Darwin and other Australian cities, has said it is closely monitoring recent events concerning Crown employees.
The staff, including three Australians, have been detained in China for more than a week without charge, with reports they could face up to ten years in jail if found guilty of advocating gambling.
While SkyCity says none of its employees have been detained or questioned by Chinese authorities, it admits it has independent contractors in China who assist with customer relationships.
The problem relates to gambling being illegal in China, meaning foreign companies aren't permitted to advertise their casinos there.
This includes organising trips for prominent gamblers from the country to Australia and Macau-based casinos run by Australian casino operators.
SkyCity says it is confident that its contractors comply with Chinese laws, but there are still concerns that recent events regarding the detained Crown employees could hurt the number of Chinese players visiting Australian casinos.
Its international business could see the biggest fallout, with revenue having already slumped 20 percent year-on-year due to lower-than-expected visits by VIP customers.
In the last fiscal year, almost 50 percent of group turnover was contributed by Chinese customers.
However, with China authorities jumping on gambling operators, these customers may be shunning visits to overseas casinos out of fear of breaking the law.
Online casino alternatives
Not all players are within easy reach of a land based casino, but there are plenty of online casinos available to players from United States. We highly recommend BetOnline Casino as the safest and best online casino providing support for players from United States.