Top 10 Microgaming pokies
Top 10 Microgaming pokies
Microgaming is one of the best casino software providers in the industry and once we're finished with detailing the 10 best Microgaming pokies available, you'll know why. We cover everything from the graphics and audio, to the payout rates and minimum and maximum bets, as well as everything in between.

Best online casinos for Microgaming pokies
---
Game of Thrones
There are two Game of Thrones pokies released by Microgaming, which differ in terms of how players can win. One features 15 paylines, while the other discards paylines altogether and features a 243 ways to win format.
Differences between Game of Thrones 243 ways to win and 15 paylines

Many still prefer the traditional format of paylines, but Microgaming offers both for their GOT fans. The 15 paylines version offers a minimum bet of $0.15, as well as free spins in the bonus round, which has a maximum payout of 750,000 coins. There is also a maximum payout in the base game of 150,000 coins.

The 243 ways to win Game of Thrones slot on the other hand has a minimum of $0.30 per spin but there is 1,200,000 coins on offer in the base game and 6,000,000 coins in the free spins round.

Similarities between Game of Thrones 15 paylines and 243 ways to win

There are similarities however, and that includes the audio which mimics the intro to the show and while this sound can be traumatic for some, since it means we have about five minutes until the show actually starts, we get into gameplay immediately with the pokies. The graphics are also quite similar in that both use the GOT logo and both feature similar symbols for the houses and Iron Throne.

Additionally, both bonus rounds are based on the houses in Game of Thrones, including Baratheon, Lannister, Stark, and Targaryen. These see up to 18 free spins on offer and up to a 5x bonus multiplier available.

Overall if you are a GOT fan, the detailed animations and audio will win you over straight away. While we don't see any of our favourite characters (cough, Jon Snow) the coins on offer make up for it, especially in the 243 ways to win version.

Both slots have between a 95% to 96% RTP.
---
Avalon II
Obviously since this is the second Avalon slot there is a prequel, however this pokies has proven to be a bit more popular than its predecessor due to the animations and the 243 ways to win over 5 reels.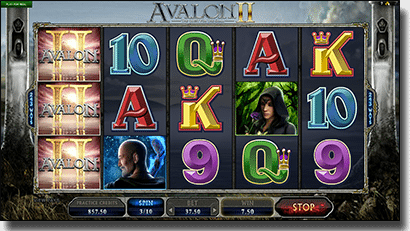 There is a lot of interest around medieval themes right now, especially with Game of Thrones being so popular, and therefore this theme fits right in. Following the theme of King Arthur and his Knights at the Round Table we follow his quest to retrieve the 'grail' for Avalon.
While we thought the 243 ways to win format was impressive, there are eight mini bonuses in the major Grail Bonus Quest feature. Here, you can win almost 60 free spins and cash prizes if you trigger every single mini-bonus. If you get to the final mini-bonus, you will spin the Wheels of Avalon and receive a generous payout. To trigger the main feature with eight bonus rounds you need three or more Holy Grail symbols, which are also the Scatter symbols.
The base game isn't too shabby either, featuring an Expanding Wild, which is the Lady of the Lake symbol, and will cover an entire reel if she appears on the third reel.
The minimum bet for Avalon II is $0.30 while the maximum is $7.50, and the jackpot on offer is 7500 coins. Additionally it has RTP of around 96%.
This slot is great for anyone who enjoys a more interactive gaming experience when playing the pokies due to the number of bonuses involved if you can trigger the feature enough. Additionally, the graphics which have been highly praised heighten this gaming experience further.
---
Thunderstruck II
By now, you have probably realised sequels are preferred as they are generally better versions than their predecessors, though this isn't always the case. However it is with Thunderstruck and once again it is due to the fact that it is another 243 ways to win slot machine.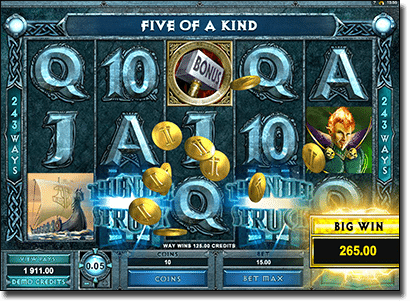 While it was release in 2010, it is still considered to be one of the best Microgaming pokies released, which is interesting since it only as a 1000 coin jackpot on offer. Regardless, there is no doubt that players enjoy this 5 reel pokie and could be due to the Great Hall of Spins feature. There are four mini bonuses to this feature, similar to Avalon II's eight mini bonuses, where there are free spins and multipliers on offer.
You need to trigger the feature multiple times to get access all levels, but it is well worth it with the fourth mini bonus seeing 25 free spins and up to a 5x multiplier available if you win consecutively. To trigger this feature, you need three Bonus symbols, which is the hammer.
There is also the randomly activated Windstorm feature which gives players a free spin with up to 5 reels eligible to turn Wild for a big win here.
This entertaining pokies has a minimum of $0.30 per spin and a maximum of $15, while the RTP is 96.6%. We recommend the same type of player as Avalon II for this pokies.
---
Immortal Romance
Before the medieval theme trumped, vampires were all the rage and while we have moved on we still have a place for the Immortal Romance 243 ways to win poker machine. Why? Because it offers a huge fixed payout of 3,645,000 coins.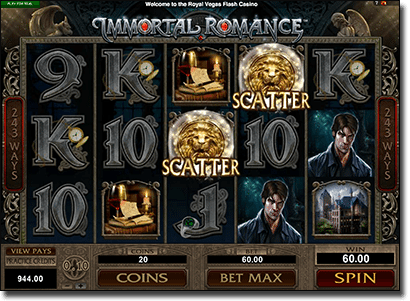 We follow the similar story in twilight of a mortal falling in love with a vampire, which may not be for everyone, but we recommend ignoring the backstory if you aren't one for impossible love stories.
First up, a Wild symbol substitutes other symbols to create winning paylines, and if you win the payout is doubled. Then comes the Wild Desire bonus which is triggered randomly and can turn all five reels into Wilds.
Finally, there is the Chamber of Spins feature, which is triggered by three or more Scatter symbols (the door knocker which is shaped as a Lion's head). Here, you will first receive 10 free spins with a 5x multiplier attached. Just like Thunderstruck II, you can enter the Chamber of Spins a number of times, and each time you will receive something different. If you are lucky enough, or play long enough, to enter the Chamber of Spins 15 times you will receive 25 free spins with a Wild Vine feature which sees a Wild substituting for other symbols.
Immortal Romance has a minimum bet of $0.30 per spin and a max bet of $6, as well as a RTP of 96.86%. We recommend this pokies to any player who wants the chance to win big on a slot which isn't a progressive.
---
Hitman
While playing video games is entertaining, we think it's missing the extra element of excitement that playing for real money provides. Luckily Microgaming have combined the two elements in their 15 payline, 5 reel slot, called Hitman, which is inspired by the video game.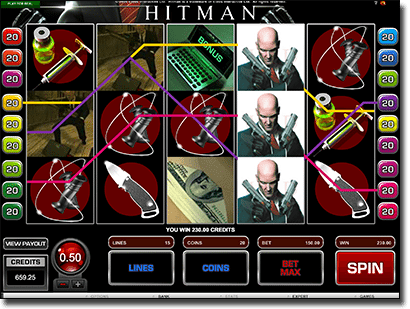 Featuring all the symbols we'd expect a Hitman to be associated with, along with an intense soundtrack which adds to the ambience, Hitman's aesthetic does the video game justice.
What makes this gaming machine truly appealing is the two bonus features. The first, known as the Insignia bonus round, which is activated by three Insignia symbols on the first three reels sees players picking one of these symbols to be rewarded with up to 20 times your initial stake.
Then there is the Contract bonus game, which is triggered by three Computer symbols, and this round sees five targets with five weapons to choose from. Pick a target to reveal the bonus and then pick a weapon to reveal your multiplier. There's a massive 270,000 coins on offer in this bonus.
Finally, there are 18 free spins on offer if you spin three '18' symbols and during these spins your winnings are doubled.
There is a minimum bet of $0.15 per spin and a max of $75, with a 95.8% RTP. This slot is recommended to players who are fans of the video game, or enjoy the crime genre, along with those who want a number of bonus rounds and plenty of free spins.
---
Tomb Raider
This is a perfect case of the predecessor pokie being just as, if not more, popular than its sequel that me mentioned above. Tomb Raider is another Microgaming slot which is based on a video game, though Tomb Raider was also turned into a movie with the infamous Angeline Jolie. Regardless, due to licensing issues this slot is based more so on Lara Croft from the video game, rather than the actress in the movie.
Featuring 15 paylines across 5 reels, Tomb Raider follows the adventures of Lara Croft raiding tombs and features high quality graphics which make you feel like you're playing the video game.
This is more of a classic pokies machine than the aforementioned as it offers Wilds, which substitute all symbols but Scatters, free spins triggered by three or more Scatter symbols, and a bonus round where players can win up to 2500 times their original bet. However, there is an overall 375,000 coins available to win on Tomb Raider.
The minimum bet is $0.30, while the maximum bet is $60 per spin, and it has a RTP of 95.22%. We recommend this slot to players who want a standard video slot and have a thing for either Lara Croft or raiding tombs for prizes.
---
Mega Moolah
This is one of the most popular progressives available within the online casino industry as it has made many players millionaires. Linked all around the world, every player who spins the reels of Mega Moolah contributes to the jackpots. It features four jackpots, including the mega jackpot that starts at $1,000,000.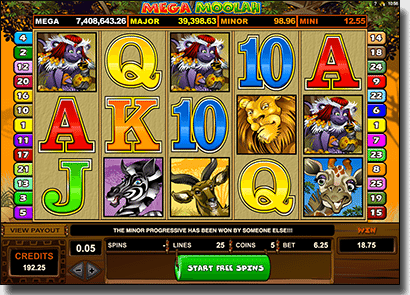 Featuring an African safari theme, Mega Moolah has a mini, starting at $10; a minor, starting at $100; a major, starting at $10,000; and finally a mega jackpot, which starts with seven figures, all on offer to be won.
In order to win the major jackpot, players need to be playing the max bet per spin, which is $6.25 (the minimum is $0.25). Additionally, simply have every payline in play for your chance at winning one of the four available jackpots.
There are even 15 free spins to be won, all you have to do is land three or more monkey-like creatures, and payouts are tripled here. We can't recommend this progressive enough to those feeling lucky or those who want the chance to really win big when playing the pokies.
---
The Dark Knight
Another popular progressive from Microgaming; while not quite as popular as Mega Moolah, it's still a favourite amongst pokies players. Additionally, both the theme and the four available jackpots on offer draws many people in.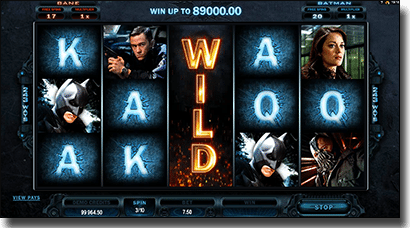 The Dark Knight slot follows the incredibly popular film, featuring Christian Bale as Batman and Heath Ledger as the Joker, and Microgaming obviously realised the only way to mirror its success is by offering a linked progressive with the major jackpot starting at $1 million, and the major, minor, and mini jackpots starting at $10,000, $100, and $10 respectively.
The minimum bet is $0.30, while the maximum bet is $6 per spin, and what makes this progressive so appealing is that players have won the mega jackpot just by playing the minimum bet per spin in the past.
Additionally, this progressive is a 243 ways to win slot, and the base game sees free spins, Wilds, and more. Even if you don't win the jackpot, we recommend playing The Dark Knight just for the base game.
---
Playboy slots
Whether you love or hate Hugh Hefner the Playboy pokies is centred around multiple attractive girls across 5 reels, though they are animated. Regardless this is a 243 ways to win slot and is quite similar to Immortal Romance and Thunderstruck II, which is why we love it.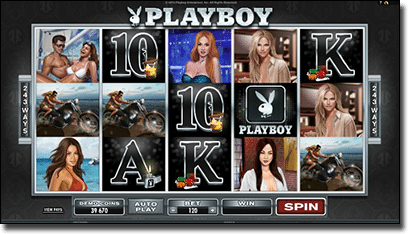 The reason it is so much like the above mentioned slots from Microgaming is that it has multiple bonus levels in the Playboy Club feature. To trigger this feature, players need three or more Scatter symbols, which are the pile of magazines with the Playboy girls on the front, and here you will be able to access four bonus rounds.
While the first bonus round is unlocked by just one spin of three or more Scatters, where the player gets 10 free spins and a 5x multiplier, the rest require at least three Scatters spun five times. Therefore the fourth bonus isn't activated until the 15th time players have spun three Scatter symbols. However, it's worth it as players receive 25 free spins and a feature called the Wild Night that occurs randomly and turns up to five reels Wild.
Overall, if you enjoyed Thunderstruck II and Immortal Romance you will enjoy this slot, regardless if you love or hate the Playboy mansion, though the girls can make it a bit more fun.
There is a minimum bet of $0.30 and a maximum of $15 per spin, with an RTP of 96.57%.
---
Retro Reels – Extreme Heat
We not only love this pokies due to Microgaming combining a classic feel with modern technology, but we also love it because it is has a high RTP of 97.50%.
Featuring all the traditional symbols including the bell, cherries, lemons, the BAR symbol, and more, we can't help feeling nostalgic. But not for long as Microgaming have added a unique re-spin feature to the 5 reel, 30 paylines slot.
This feature allows you to re-spin a reel, which can come in handy if you almost have a winning combination that requires more symbols for a huge payout. It costs you however, so be careful not to go overboard with this feature.
There are also up to 20 free spins on offer which can be re-triggered, while there is a minimum bet of $0.01 and a maximum of $112.50 per spin.
We recommend this pokie to anyone who wants to try out this re-spin feature, or who want to mix past with present in terms of the look and feel of the slot in conjunction with the unique features that are included.
Best Microgaming pokies reviews
Microgaming pokies reviews
Sign up for an account at Royal Vegas Casino for instant access to hundreds of real money Microgaming pokies, and claim up to $1200 in new player welcome bonuses.